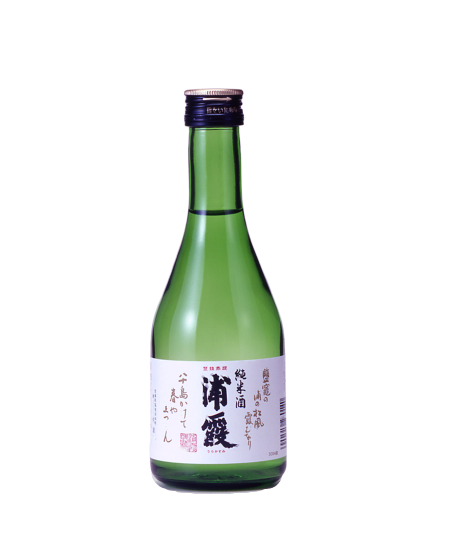 Urakasumi Junmai 300ml
Size: 300ml | ABV: 15%
In 3 words: Earthy, smooth and delicious
A gentle, classic and smooth sake with a hint of peach, cotton candy and cheeky kick of pepper. Soft Umami, bold acidity and chocolate bitterness open up as it warm to room temperature.
Grade: Junmai

Awards: Gold medal Junmai, 2016, 2017 - U.S. National Sake Appraisal;

Gold medal - The Fine SAKE Awards 2016

Brewery: Urakasumi

Region: Miyagi

Rice polishing: 65%
Try pairing me with pizza
Product Details
Rice variety: Manamusume
Sweet or dry: Medium-dry
Acidity*: 1.5
Sake Meter Value +2
Food Pairing: Mozzarella pizza, Pork belly, Calamari, onion rings, or garlic mushrooms,
Serving temp: Chilled to Room Temperature
Dietary: No sulfites, no preservatives. vegetarian, vegan
The Brewery
Urakasumi
Urakasumi, located in the town of Shiogama, Miyagi prefecture, on Japan's North East coast, translates in English as "Misty Bay" (ura is "bay" and kasumi is "mist"), simply capturing its picturesque seaside surroundings.
At a glance:
195 year old,13th generation family-run brewery

37 Gold Prizes in Annual Japan Sake Awards & won more Gold Prizes than any other sake producer in Japan.

Medalled every year in the London IWC (International Wine Challenge) since 2007

Devastated by the Great East Japan Earthquake in 2011 Japan, painstakingly rebuilt